Welcome to one of a seemingly handful of McDonald's locations built in the '90s to mimic the classic style. This particular location is in Baldwinsville, NY which is about 15 minutes northwest of Syracuse. As a lot of McDonald's locations have been 'eyebrowed,' coming across this particular style can be quite tricky. In the entire Twin Tiers coverage area, this is only one of two that I have come across on. (There is also at least one in the Buffalo area and it is possible that there could be more of this style there.)
I don't think this location is in any particular danger for a couple of reasons; one of which is below:
Despite being a style based on an older location, this McDonald's still has two drive-thru lanes like new 'eyebrow' locations do.
The other reason lies in the fact that McDonald's hasn't been doing all that well lately. The company announced a couple months back that 900 corporate owned stores would be closing and its profitability is one the lowest of the four national fast food chains. (Wendy's, Burger King, Arby's.) Even Sonic has surpassed McDonald's in profitability, and McDonald's has at least three times as many locations as Sonic. It's also kind of funny that the last time I've actually had a meal at McDonald's was well over a year ago. I stopped for breakfast at one on a travel recently, but I did not get a meal only a sandwich.
(
There's a difference!)
I don't think 'eyebrow-ing' your locations was a good idea either, especially if you are removing some awesome vintage features to some locations. (Looking at you, Germantown, TN McDonald's) Although McDonald's is facing hardship, they still maintain a few unique locations so let's get back to the pictures.
With this being a rock and roll location, its obvious that Elvis would have a presence here. Got to love the musical decoration too.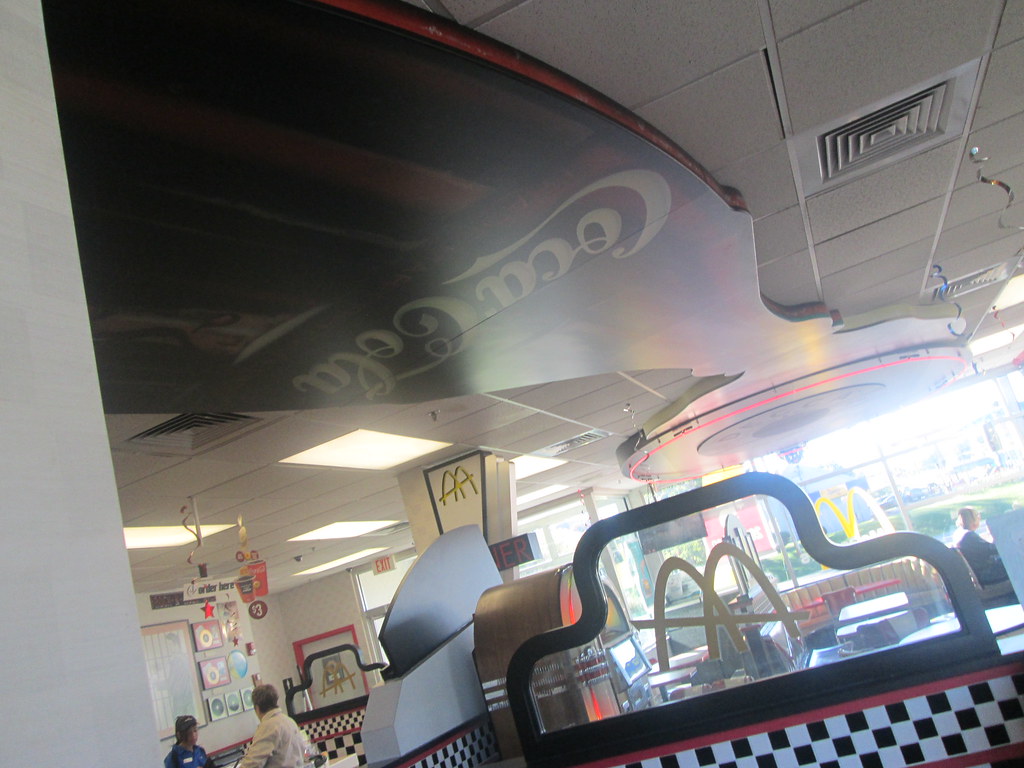 Neon lighting ring.
Hello there, Mr. Speedy.
Awesome sight of Jukebox.
Jukebox donations being used to support the community.
Let's hope you don't have to make a 'Speedy' exit.
As we all know, the 'eyebrow' has taken a lot of McDonald's over. So, I've been doing my best to capture locations that still have the classic vibe to them. Some of these locations are more unique than others, so I won't stop and see the interior of all of them in the Twin Tiers coverage area. This was an obvious exception though.